Recently I got my hands on the entire
Hilltop Hoods
discography. I decided, because I love this countries music so damn much, I'm going to review every album of this seven album collection and I may even do a deeper review of some albums at a later point in time. So first things first, Hilltops first EP, Back Once Again (1997)
Back Once Again (artwork unavailable)

This EP has a slightly different sound to the Hilltop we know today. It is a much younger sound, more aggressive. This was the first release with the original Hilltop Hoods. (Suffa, Pressure, Debris and Next) You can very much hear the age gap between this EP and the 07' released,
Hard Road Restrung
. I do like this album, but I am not sure as to why, I do like what they have done but it is very different from what I'm use to hearing.
As this album is only an EP it only contains 6 tracks, one of which is a remix
The track list is;
Back Once Again (4:50)
Shades Of Grey (5:21)
No Redemption (4:57)
Mankind Must Suffa (5:24)
Gemini (5:13)
Back Once Again Remix Ft. Flak (4:56)
My favourite track would probably be Gemini. Its a very 'hard, angry' tune with some insane beats to bop your head along to. It's a very good track to release your aggression with. Calms me down every time.
I believe this album, as it is earlier work, is definitely not the best stuff Hilltops ever done, yet it still has the right feeling, therefore; This album receives a 6/10
The next album in the discography is Hilltops first LP, A Matter of Time

A Matter of Time (1999)
This LP is obviously alot longer then the previously released
Back Once Again
.
The album is currently out of press but you can find it on the bands website as a free download. This album is very similar to the EP, which is expected, this may have something to do with the fact it is the last time DJ Next appears on
a Hilltop album. While being similar to their EP it is also different. The flow of the songs and the beats they use are less aggressive and a lot more about telling the story, This is where the Aussie Hip-Hop we know today began. They are still very young on this album and you can tell that in their pitch, tone and they way they present their words. This is a very good album and I am quite impressed with this considering it is their first studio album.
This album is a full album and contains 14 full tracks three of which are remixes
Track List;
A Matter Of Time (4:35)

1979 (3:54)

The Anthem (4:13)

Time Wasted (0:39)

B-Boy Battlegear (3:02)

Give It Up (3:20)

Clap Your Hands To The... (1:10)

Let Me Show You (3:23)

Deaf Can Hear Ft. Bukue One (4:00)

Common Streets (3:29)

A Matter Of Time Remix/Instrumental (2:19)

1979 Remix (3:32)

Whatcha Got (4:04)
Whatcha Got Remix/Instrumental (1:20)
Note; Clap Your Hands To The.... is a beatbox/spit track while Time Wasted is a scratch track


My favourite track off this album would also be the most well known track, 1979, it tells a very deep story about the old school Hip Hop scene. It produces a great flow and gives Aussie Hip-Hop the glorification it needs.
This album is a major improvement on the EP. The way they used different speech samples and beeps and scratches is very well done.
This album is also not the best but very impressive 7.5/10
The third album, Left Foot
,
Right Foot, is the second studio album under Obese Records

Left Foot, Right Foot (2001)


This album, while only three years after their previous one, has
cleaner, sharper sound while still keeping that raw feel we got on
A Matter Of Time.
This album should still be available in some record stores but is rarer then most
.
As I stated before this album is a lot cleaner and sharper then the last. Suffa and Pressure are very impressive on this album. Their rhyming and spitting skills have improved since
A Matter Of Time
. They are a lot quicker while still keeping their story clear and getting the words out correctly. Debris was also very impressive. This was the first album where he was behind the turntables and truly got to shine, and shine he did. He knows how to scratch and his skills add to Pressure and Suffas. Lyrical content on this album is interesting, you can tell it was produced in 01'. It touches on all subjects from Drugs, The Streets, Rising up. The guys have done a lot of growing up and you can hear it in their ability.
This album contains 18 tracks with two bonus tracks both being remixes
Track List
Are you Ready?
The Soul of the Beat
Left Foot, Right Foot Ft. RAIZONE
Immortal MCs
What the Seasons Change
Another World Ft. Koolism
When I'm
Leaving Sideways
Running From The Storm
Distortion
Don't Stop
Elevation remix Ft. Bonez
Baby Steps
Sojourn
Tolerance Levels Ft. Mass MC and Fatface
Immortal MCs remix
I Believe remix Ft. DJ Reflux
Omega
The Two bonus tracks;
"Elevation" (88' remix)
"The Soul Of The Beat" (remix)
My favourite tracks are Left Foot, Right Foot and Elevation. Elevation has some tight rhymes and spitting skills while Left Foot, Right Foot is a very slow story telling song.
This album was probably the first 'serious' album released by the band and was the 'real' introduction of the Hilltop Hoods character which appears on every album cover.
Definitely one of their better albums 8.5/10
The next album is The Calling.

The Calling (2003)


This album was a huge step for Hilltop Hoods as it was the first Australian Hip Hop album to reach gold album status, based on high sales. In 2006 Obese Records announced it was the first Aussie Hip Hop album to reach platinum status. The album peaked at #53 on Australia's
ARIAnet
Albums Chart. Two songs on the album charted in the
2003 Triple J Hottest 100
chart, "The Nosebleed Section" - #9 and "Dumb Enough" - #44. Both were released as singles in 2004, after the initial single "Testimonial Year" did not fare as well as had been hoped. This album may be the best the Hoods have released to-date if not the best its sure up their. It was a huge step for them and Aussie Hip Hop in general. With technology more easily available and a higher amount of funding the sound went from raw and shaky to clean, sharp and just beautified, there is no other way to describe it. Its everything you expect from a hip hop album and more. It has humor, sensitivity, beautification, story telling, sadness, happiness, joy. FUCKEN EVERYTHING! I've tried to be formal through this review but it is impossible with this album its just that good.
There are 17 tracks each one if different and has its own story. Two of these tracks became hit singles, as stated before.
Track List;
"Incoming"
"The Calling"
"Illusionary Lines"
"Tomorrow Will Do"
"Laying Blame"
"Simmy And The Gravyspitter" (feat. Simplex)
"Down For The Cause" (feat. Hyjak And DJ Bones)
"Mic Felon"
"Walk On"
"The Certificate" (feat. Certified Wise)
"Hilltop Hoods"
"Working The Mic"
"Outgoing"
"The Sentinel"
Choosing my favourite tracks was very, very difficult as their are just so many impressive tunes on this album. I've knocked it down to three. The Sentinel, The Nosebleed Section and
Testimonial Year
. All these tracks are different, yet insanely good. They all flow nicely and each tell a different story, there is no way to describe it.
Their best album yet 9.5/10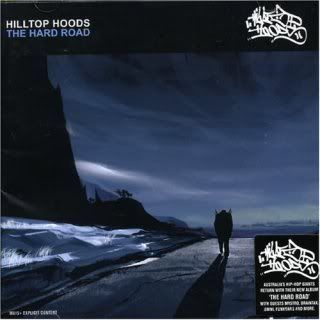 The Hard Road (2006)


The Hard Road is arguably the biggest realease by the boys. This album was released on April 1st, April Fools Days, and debuted and number 1 on the Australian ARIAnet Album Chart, unprecedented for an independent label release and for an Australian Hip Hop Artist. This earned
The Hard Road
the ARIA #1 chart position. The album contains the top 20 single,
Clown Prince
. The album achieved Gold Status (35,000 albums) on the 8th of April 2006, a week after release and has now surpassed Platinum status (70,000 albums). The album won the Triple J
J Award
in 2006. The award was announced on December 1st. Five songs from the album placed on the annual
Triple J Hottest 100
chart announced on January 26 2007. Songs "Recapturing The Vibe", "Stopping All Stations", "
What a Great Night
", "
Clown Prince
" and "
The Hard Road
" placed #77, #56, #41, #23, and #3 respectively. This album, like
The Calling
, is one of my favourites. Its got everything an Aussie Hip Hop album needs; its got songs to drink to, songs to dance to, songs to think to, songs to sing to, songs to laugh at, and songs to cry to. Not only that it also has an amazing amount of collaborations by some big name artists such as; Mystro, Drapht, Funkoars, Omni, Braintax, DJ Reflux and a ton more. One song, The Blue Blooded features about 8 or 9 different artists. This album consists of 16 tracks including one hidden one. Three of them featured in the Triple J Hottest 100 as mentioned before
Here are the tracks;
"Recapturing the Vibe" - 3:26
"Clown Prince" - 3:52
"The Hard Road" - 4:06
"Stopping All Stations" - 3:52
"Conversations from a Speakeasy" (featuring Omni) - 3:28
"What a Great Intro" - 0:24
"What a Great Night" - 3:07
"City of Light" - 3:40
"Obese Lowlifes" (featuring Mystro and Braintax) - 2:24
"Circuit Breaker" - 3:29
"Breathe" - 3:15
"The Blue Blooded" (featuring Blue Blooded Allstars) - 4:47
"Monsters Ball" - 4:19
"An Audience with the Devil" - 4:06
"The Captured Vibe" (featuring DJ Reflux) - 2:12
"Ya Feel Big? Secret Track
My favourite track(s) were difficult to choose and so, obviously, I had to choose more then one. What a Great Night, this song is an excellent party song, its great to drink to, even if your just chilling at home. The Blue Blooded, this track is a great representation of Aussie Hip Hop for the world to see, with so many artists on the one track how could you not enjoy it. Circuit Breaker, this track is difficult to explain, just listen to it, you'll understand & finally Stopping All Stations, gotta have a song that will make you reminisce and think.
This album was great, almost as good as
The Calling
but not queit.
8.5/10

The Hard Road Restrung (2007)
This album is a remixes album. The track are all from the last album
The Hard Road
and feature the
Adelaide Symphony Orchestra
and
Okwerdz
. The album was released on May 12, 2007 in Australia, with a launch show and one off performance with the Adelaide Symphony Orchestra at the Entertainment Centre on the release date. International guests Okwerdz and
Mystro
performed as a surprise for fans; they were not advertised on the bill. The performance was recorded, and will be feature on a DVD along with footage from recent Hilltop Hoods performances. There isn't really much I can say about this album, The Orchestra works really well with Skip Hop and it always has, some of the tracks work really well, some not much. I don't really know how to describe it, I like the way its done, its just missing something. Its a lot slower then
The Hard Road
which you notice, even in the faster pitched songs. Its still a great album and I appreciate the work the boys went through to get this album out
There are two new tracks that didn't appear on
The Hard Road
but there are also two missing.
Track List;
"The Hard Road Restrung"
"Stopping All Stations Restrung"
"Conversations from a Speakeasy Restrung" featuring Okwerdz and Omni
"An Audience with the Devil Restrung"
"Monsters Ball Restrung"
"Breathe Restrung"
"Another Great Intro"
"What a Great Night Restrung"
"Obese Lowlifes Restrung" featuring Mystro and Braintax
"City of Light Restrung"
"Clown Prince Restrung"
"The Captured Vibe Restrung" featuring DJ Reflux (Medley)
"Recapturing the Vibe Restrung" (Medley)
"Roll on Up"
"JellyFish"
As I'm sure you noticed the track list has been moved around. With the two new tracks being at the bottom. My favourite tracks were easy to choose in this album as, with every remix album, its the two tracks that haven't been heard before hand, They are both great songs, although I do prefer the live version of Roll on Up done with FlowRider.
This album, being a remix album has been done before, just chopped and changed
7/10.

State of the Art (2009)


State of the Art
is the forthcoming studio release. It is the first release by their newly founded record label,
Golden Era Records
. State of the Art is planning to be released on 12 June, 2009. It is the first release to be made by the group since their
ARIA award
winning album,
The Hard Road
, in 2006, and its remix album,
The Hard Road Restrung
, which was released in 2007. The first single, "
Chase that Feeling
", was released on 5 May, 2009. The first time I heard
Chase that Feeling
I got extremely excited to know the boys were back. I've been waiting on this album for years now. I've already pre-orded it, now just the waiting game.
Here's the track list;
"The Return"
"Super Official"
"Chase that Feeling"
"She's So Ugly"
"Still Standing"
"Classic Example" (Ft. Pharoahe Monch)
"Chris Farley"
"The Light You Burned" (Ft. Trails)
"Parade the Dead"
"Last Confession"
"Hillatoppa"
"Fifty in Five"
"Rent Week" (Ft. Funkoars, Vents and Briggz - iTunes Only)
State of the Art (Instrumental JB-HiFi Only)

From what I've heard, this album is going to be worth the wait, my favourite tracks can only be the ones I've heard so far which is; Chase that Feeling, The Return & Hillatoppa. The tracks I'm bugging to hear are; Rent Week, Shes so Ugly and State of the Art.
As I havent heard the entire album I can't review this album entirly so I'll leave it at that.
?/10