Holy Shit.
That was needed to start this review of Friday nights show at the Rosemount Hotel. Pez, 360, Matik, Tys & Seth Sentry. What a crazy, insane, fucked up, drunked up show.
To begin the night Elias & I headed in and started of with a couple of drinks listening to Oz Hip Hop being mixed by DJ Armee. That session lasted a good 30 minutes to an hour. Eventually Tys hit the stage.
Tys is Pez's younger brother and is featured on his album on the song The Way It Should Be. Tys put on a killer show with crowd interaction and even hung out after his set to have a drink with me. Yes, I'm not exaggerating he is a very humble dude and is willing to get a photo with or met his fans.
After Tys we had a break, so we had a few more drinks. We were up to number 6 or 7 by now, downing a couple of shots and a Jagerbomb.
Following Tys was Seth Sentry who is better known as "That dude who sings that breakfast song". He, as well as everyone that night, put on such a crazy wild show. Being at the front and shaking his had was insane, then talking to him after. Could this night get any better?
In answer to that question, Fuck yes!
Pez & 360 came on stage after the crowd and Seth asked several times "Where The Fuck Is Pez?!" As soon as they walked on stage shit went wild. Everyone had their hands in the air and was nodding to the music. I think about halfway through the set I got up on stage and was standing next to 360 and Pez. Unfortunently I had to get off and Pez said he'd meet up with me later.
That is when this photo occured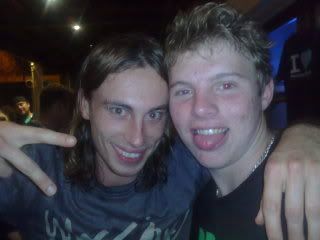 The show was crazy and messed up and was worth every penny. Such a crazy night and I'd do it all again in a second. Please hit up JB Hi-Fi for Pez's album
A Mind of my Own